Multimodal Transport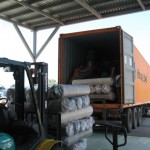 Silvirom OÜ develops and implements multilevel transport solutions with regards to the delivery of cargoes, using marine, road, railway and air transport.
By carrying out complex intermodal transportations, Silvirom OÜ provides its clients with high-quality service at economically reasonable prices.
In the sphere of organization of multimodal schemes of transportation of goods, we offer you:
container transportations by sea;
organization of delivery of cargoes in small batches from all over the world and by various modes of transport;
international air transportations;
international transportations by road;
transportations by rail;
delivery of general, oversized and bulk cargoes;
"door-to-door", "port-to-door", "station-to-door" terms of delivery;
optimal routes and deadlines of delivery;
control over cargoes throughout the entire route;
insurance against "all risks" at a reliable insurance company;
quick response to inquiries;
flexible client-oriented policy of relations.