Warehousing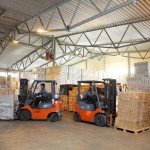 Silvirom OU company offer a logistics service – warehousing of goods in the EU. If you plan to store your goods, you should find before the answers to the following questions: which type of warehouse suits your goods the most, define the location and functions of the warehouse, the placement of goods on the territory of the warehouse.
The employees of our firm will help you resolve these and the other tasks related to the warehousing of cargoes.
A suitable location, the availability of a ramp and access roads will ensure comfortable loading and unloading of the vehicle in the process of transportation of goods.
We provide storage and other types of stevedoring services in ports of the Baltic States (Tallinn, Riga), the Netherlands (Rotterdam) and other EU countries, as well as at smaller customs warehouses outside the area of ports.
Services rendered at port:
Storage of goods at a warehouse;
Mechanized and manual loading;
Weighing, inspection and photographing of cargo;
Presentation of reports on executed operations related to the movement of goods and residual stock to the clients;
Sorting, packing of cargo, equipment of packages;
Marking of goods and their preparation for shipment;
Survey control